September 15-16, 2018 at Sugar Bowl's Mt. Judah Lodge

Specifics for 2018 will be coming - check back later.

Explore scenic Donner Summit with local historians on interpretive walks and hikes. As you trace the steps of the emigrants, imagine the clip-clop of oxen and the rumble of wagons of the countless pioneers who scaled the mighty Sierra Nevada in search of a better life.

Hikes depart from Sugar Bowl 10 minutes from Truckee —
30 minutes from Lake Tahoe. Preregistration required. Limited same day registration. Every hiker gets a baseball cap.

SATURDAY HIKES: Choose from one of six hikes ranging from 3.5 to 6 miles with varying degree of difficulty. See petroglyphs, railroad snowshed tunnels or the China Wall. Stroll through meadows or discover hidden Sierra lakes. In the afternoon enjoy a hamburger lunch and afternoon speaker. Preregistration is encouraged to assure hike choice. $----/HIKER; $85 AFTER OCTOBER 3

SUNDAY WALKING TOUR: Learn about the grueling mishaps of the Donner Party and the archaeological finds that remain. Then, it's on to all new Donner Memorial State Park to view the Murphy Cabin Site and Pioneer Monument.

SATURDAY/SUNDAY TWO DAY PKG: $---/HIKER; $110 AFTER OCTOBER 3

LODGING PACKAGES: Area lodging packages available for participants.

REGISTER TO SECURE YOUR SPOT IN TIME: Tour size is limited. Reserve your spot on the trail by October 3 for early savings.

Complete hike descriptions and registration forms can be found at - www.donnerpartyhike.com or info@donnerpartyhike.com

PRODUCED BY JUST IMAGINE MARKETING AND DESIGN COLLABORATING WITH DONNER SUMMIT HISTORICAL SOCIETY.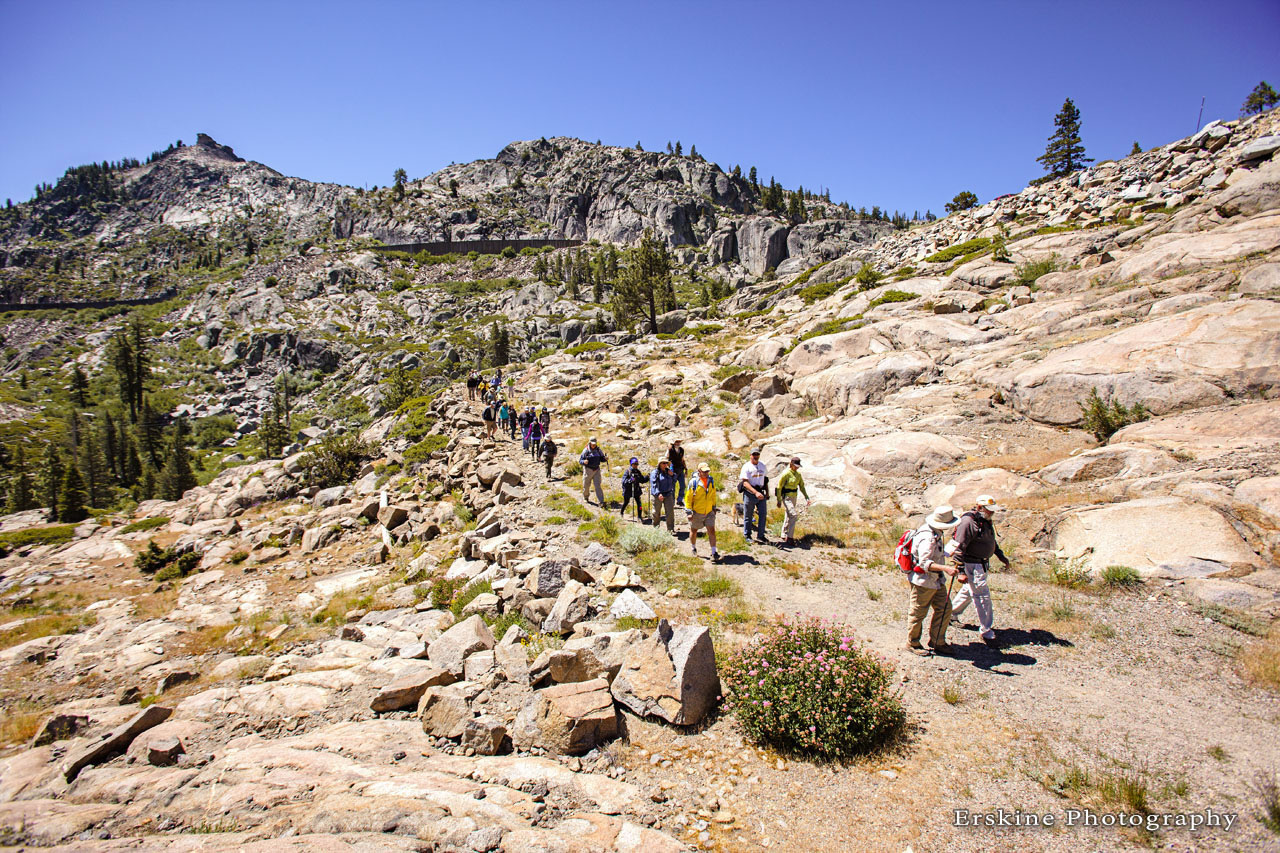 Above, Donner Party hikers below the snowsheds on Donner Pk..

The Donner Party Hike event is organized by Kathy Hess of Just Imagine Marketing.