The historical society logo which is on each page of this site is Rainbow Bridge on old Highway 40 on Donner Summit. The real name is the Donner Summit Bridge and it was completed in 1926. Its uniqueness comes from the fact that it was, at the time, built in a compound horizontal curve of 360 ft. with a 110 ft. open spandal arch. It was also the first bridge built with Federal Forest Highway Funds. The cost; $40,000.

The Logo was drawn by Nancy Oudegeest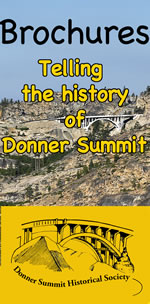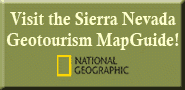 They Came for the Same Reasons We Do

"The air has a fresh crispness about it that gives a new life to the visitor whether he has come from the fertile plains or the foggy city. And no wonder, for though this be called Summit Valley, there are seven thousand feet between you and sea level. Seven thousand feet nearer heaven and so much nearer purity. It is a relief to….look up to the stars, nowhere brighter than here, with only the dark pines closing in the distance… The air redolent with the perfume of fresh grass and wild flowers; and aromatic with pine needles. It is a physical pleasure to breathe, a 'delight to exist'… It is small wonder that a millionaire [Mark Hopkins]… should confess to be happier and healthier here than in the handsomest house on California Street. Nob Hill, to the sierras indeed."

California Spirit of the Times magazine June 13, 1885 pg 3-4
Donner Summit is a fascinating place for lots of reasons but especially historically. It has been visited by humans for thousands of years (see our
petroglyph
page). It is the site of the first transcontinental highway (the Lincoln Highway) and the first transcontinental railroad. It has been a hive of activities including many different industries: agriculture, sawmills, forestry, mink farming, ice harvesting
(See the Ice in Ice Lake)
, dairy cattle, railroading, highway maintenance, tourism, and the ski industry. The rescued members of the Donner Party crossed Donner Summit right at the Summit. For a quick introduction to Donner Summit in PDF form with lots of pictures
click here
.
It is because of the fascinating history and stories that the Donner Summit Historical Society was formed. The purpose "is to offer lectures, seminars, and field trips that will help the community learn the history of Donner Summit and the surrounding area, and to collect and display artifacts relative to the history, and to carry on other educational and charitable activities associated with this purpose" (from our articles of incorporation, December, 2007). The historical society is a 501(c)3 entity.
We hope you who are looking at this website will
participate
in our efforts or at least enjoy what we have to offer. If you have items you would like to lend or donate so the public can enjoy and learn from them, please let us know by
contacting us
. We will happily take any contributions to enable our work and accomplish our
dream
.
Check This Out:

Introduction to Summit Valley(PDF's) side one and side two
New brochures including Snowsheds and Emigrant Trails Over Donner Summit
Subscribe to The Heirloom - Free Free Free
Send us your email address.
April, '14: When Dragons Ruled Donner Summit; Rainbow Tavern Reopens; Rainbow Tavern Today; Rainbow Tavern Stories; Rainbow Tavern Pictures; from the Archives of the DSHS (emigrant quotes Summit Valley, trail signs and map, and more; Rails, Tales, and Trails book review; New Brochures/ Then & Now
Search for us on Facebook