The historical society logo which is on each page of this site is Rainbow Bridge on old
Highway 40 on Donner Summit. The real name is the Donner Summit Bridge and it was
completed in 1926. Its uniqueness comes from the fact that it was, at the time, built in a
compound horizontal curve of 360 ft. with a 110 ft. open spandal arch.It was also the first
bridge built with Federal Forest Highway Funds. The cost; $40,000.

The Logo was drawn by Nancy Oudegeest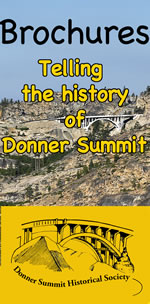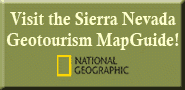 Walking Through Donner Summit History

Donner Summit is the most important historical square mile in California and maybe the entire Western United States. Native Americans crossed for thousands of years. The first emigrants to arrive in California with wagons came over Donner Summit. The first transcontinental railroad, the first transcontinental highway, the first transcontinental air route, and the first transcontinental telephone line all crossed Donner Summit. The first person to bicycle around the world went over Donner Summit, as did the first person to make a motorized crossing of the U.S. and the first people to attempt to cross the country in an automobile. That's just a bit of the richness that is Donner Summit history.

Then there are the fun small stories: frozen turkeys roosting in the trees, the two-story out house at the Summit Hotel, blindfolded mules, and the Spider Dance.

You can walk through Donner Summit history, where it all took place. In the walks described here you will read the stories, "hear" history through people's words, and see the historical photographs that bring the history to life.

218 pages ©2015 link for details

Donner Summit - the most important historical square mile in California and maybe the entire Western U.S. Native American visited by humans for thousands of years (see our
petroglyph
page). It is the site of the first transcontinental highway (the Lincoln Highway) the first transcontinental railroad, and the first transcontinental air route. It has been a hive of activities including many different industries: agriculture, sawmills, forestry, mink farming, ice harvesting
(See the Ice in Ice Lake)
, dairy cattle, railroading, highway maintenance, tourism, and the ski industry. The rescued members of the Donner Party crossed Donner Summit right at the Summit. For a quick introduction to Donner Summit in PDF form with lots of pictures
click here
.
The Donner Summit Historical Society was formed "to offer lectures, seminars, and field trips that will help the community learn the history of Donner Summit and the surrounding area, and to collect and display artifacts... and to carry on other educational and charitable activities associated with this purpose" (Articles of Incorporation, December, 2007). The Historical Society is a 501(c)3 entity.
We hope you who are looking at this website will
participate
in our efforts or at least enjoy what we have to offer. If you have items you would like to lend for copying, or to donate, please let us know by
contacting us
.